Bethanne Hill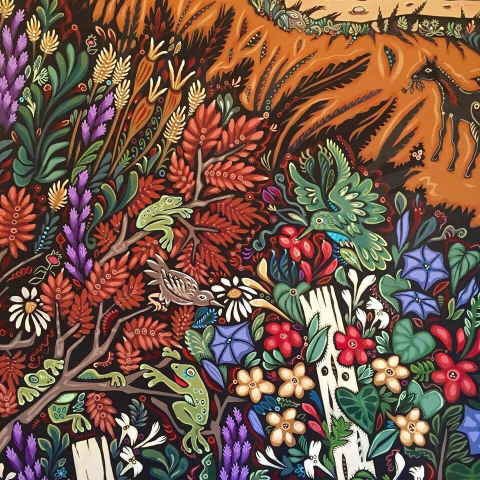 Featured here is just one sample of the beautiful, whimsical, and folksy artwork of Bethanne Hill. Her work is currently on display at the Eddie and Kay Aldridge Arts & Historical Collections Museum. Come and see how this amazing artist tells beautiful stories through her charming images of country life. Her work will be displayed through the end of July.
Here's a little bit of what the artist has to say about her artwork. "In the South, we enjoy agracious plenty, as you hear folks say. There are plenty of stories, plenty of legends, plenty of moments in lives long gone. Through time, Southerners have spun their lives into tall tales and songs that burst with the lushness of life. In my paintings, I invite the viewer to look at the details, to pay attention to these stories and small moments. Often they are familiar…things we've seen ourselves, legends we've heard others tell. They always change a bit with each retelling. These paintings are my stories, embellished in that great, southern tradition. My hope is that they convey a sense of place...my home here in the South."
Bethanne Hill is a 1985 graduate of the visual arts department at the Alabama School of Fine Arts, and holds a BFA in painting and sculpture from Birmingham-Southern College.
 
---