JOSEPH DE SCIOSE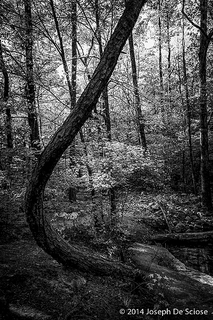 "Embracing Silence," an exhibit of photography of the Moss Rock Preserve by Joseph De Sciose, runs from Thursday, Oct. 9, through Sunday, Dec. 7, in the gallery at Aldridge Gardens. The show features more than 20 black-and-white images, taken in all seasons and capturing the diverse landscape of the 349-acre Moss Rock Preserve. 
A former senior staff photographer for Southern Living magazine, Joseph De Sciose is a perennial photographer of natural and designed landscapes. His photographs have appeared in numerous national magazines, including Fine Gardening, Horticulture and Flower Magazine, plus print media for the New York Botanical Garden and the Brooklyn Botanic Garden. But De Sciose wasn't working on assignment the first time he visited Moss Rock in Hoover, rather, he was exploring his own neighborhood.
"I've lived in the same house in Hoover for 11 years," De Sciose says. "Moss Rock is just minutes from home — it's a place surrounded by development. I've been going there for five or six years, but it was only a year ago that I realized, I could make some exceptional photographs here."
Hiking with his camera and tripod in hand, De Sciose began to study the varied landscape of the 349-acre nature preserve. "I was amazed by the boulder fields and the sandstone glades. The place has a monumentalism to it."
Most of De Sciose's portfolio is color, but the textures of Moss Rock's earthen elevations seemed to demand black and white.
"Color could overwhelm here, where black-and-white allows you to concentrate on the structures and patterns visible on so many surfaces."
"Embracing Silence" includes more than 20 pictures, highlighting the park's natural wardrobe — the bright buds of spring, boulders covered in winter snow, moss and lichen that clings to the rocks year-round. The show is a portrait of an urban wilderness, an undeveloped area that the City of Hoover decided to protect.
"I'm not sure people fully appreciate how valuable Moss Rock is to Hoover," De Sciose says. "But the importance of a park space can't be overstated. What would New York be without Central Park? This is a place to embrace silence, to get breath after breath of fresh air. There's no other place like it. I wanted my pictures to show that."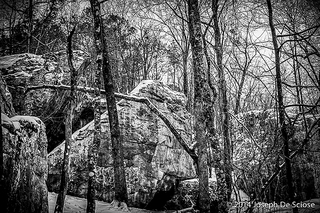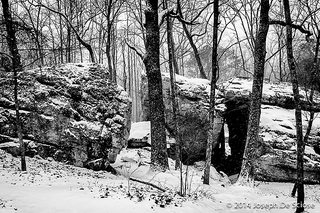 ---