In the Gallery
The works of Samuel K. Collins and Amy P. Collins
December 2 through February 2
As a Certified Medical Illustrator, Sam Collins has spent the majority of his professional career illustrating the intricacies of the human body, creating cellular landscapes, and explaining scientific concepts through pictures.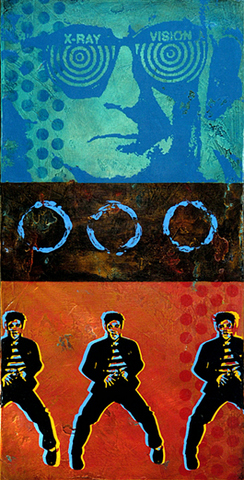 American Icon
After 25 years of such specialized artwork, Sam now creates mixed media artwork reminiscent of days spent on family road trips when he was a kid. He combines his love of pop art with symbols of the American landscape.
Everyday objects - signs, buildings, cars, music, advertising imagery and events of the mid 20th century, influence Sam's artwork. He uses painting, photography, digital images, screen-printing and found objects to create his collage constructions that reflect the American lifestyle and culture.
---
For more than 25 years Amy Collins, also a medical illustrator, has had the opportunity to incorporate her artistic skills into her professional career - explaining scientific concepts through pictures. For the last several years she has been able to focus on something she says is one of her true passions - oil painting.
"My paintings are a reflection of my environment – places I've been and things I enjoy. People and animals often provide inspiration. With expressive and loose brushstrokes I try to define their individual personalities. I focus on capturing the light and color nuances that occur at a certain moment in time. Whether in a landscape, a still life, or a figure, I want the viewer to share in that same moment."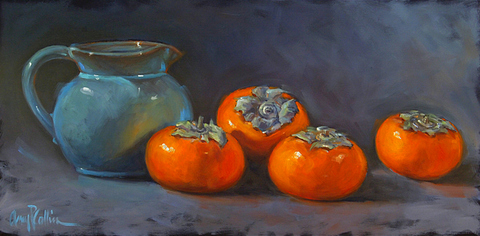 Persimmons
---