Schedule of Classes
"Hidden World of Bats" (Family or Individual Class. Halloween is Near!)
6:00-7:30 p.m.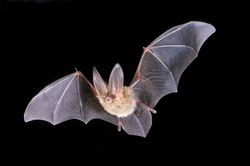 Description:
Instructor: Dick Mills, Naturalist
$12 Members/$15 Non Members
1 Child age 6+ free with each adult, $4 for each additional child age 6+
Found in virtually every part of the world except the Polar Regions, bats are the only mammals capable of true flight. Participants in this class will learn many qualities and adaptations of these fascinating animals. With some live representatives of our regional bats in Alabama, Dick plans to bring a few of these fuzzy flying mammals to class, which will be in addition to the classroom presentation. Professional development hours available. Register on-line at www.aldridgegardens.com or call 682-8019.

This form stopped accepting submissions on October 25, 2012 6:00 pm CDT.
---