Schedule of Classes
Build Your Own Bat House! (Family or Individual Class. Halloween is near!)

Canceled
6:30-7:30 p.m.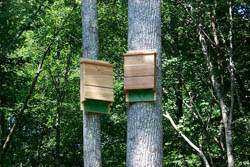 Description:
Instructor: Dan Spence, Master Carpenter and Contractor
$45 Member Family/$55 Non-Member Family (includes $25 materials fee)
Class size limited and pre-registration required.
Location: Pavilion, depending on weather.
Registration should be received by Oct. 16 in order to purchase & prepare lumber.
This one hour workshop is a fun and educational family project that will also benefit the environment! With the proper habitat and a correctly built bat house, your family may be graced with a bat colony moving into your landscape. Each bat in a colony can easily consume 1,200 mosquitoes in one hour, and you may observe these tiny mammals each summer evening flying out at dusk for their nightly hunt. In winter they will usually leave the bat house for a warmer area, but will probably return the following spring. Bring your family and join Dan Spence, master carpenter, and build a bat house to install on a tree or pole in your yard. Dan will provide measured and pre-cut lumber for your project. Bring work gloves, a screw driver, and a hammer. Registration by October 16 please! Register on-line at www.aldridgegardens.com or call 682-8019.

---