Schedule of Classes
Pruning for Form and How to Avoid "Crape Murder"
9:30-11:30 a.m.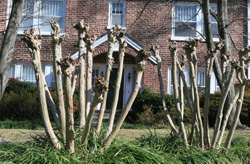 Location:
Aldridge Gardens
Description:
Instructor: Rip Weaver, CLARB, ASLA and Executive Director, Aldridge Gardens
$12 Members/$15 Non-Members
Class size is limited. Pre-registration suggested.
Think of the joys of bringing new vigor to your landscape, a tidy garden, and removing unhealthy clutter. Come and learn from an expert landscape architect and discover the correct guidelines to pruning trees and shrubs. You will witness (with hands-on pruning if you wish) the reasons for and steps to pruning ornamentals in your landscape and how to eliminate "crape murder."
Have you driven around the Birmingham area and noticed ugly knotted, gnarled, pitiful scars and wounds on a once-lovely crape myrtle? Because everyone else makes a horrid ritual of butchering these ornamental trees, many homeowners think they also must top these once beautiful plants. Come join Rip Weaver as he teaches us how to correctly prune crape myrtles and other ornamentals, and weather permitting, he will also demonstrate out in the Gardens the pruning of several of our favorite shrubs and specific landscape plants. Bring your own hand pruners if you wish to prune.
Location: Aldridge Gardens, 3530 Lorna Road, Hoover
For more information or to make reservations, call (205) 682-8019 or visit www.aldridgegardens.com

This form stopped accepting submissions on January 19, 2013 9:30 am CST.
---