Schedule of Classes
"Vegetable Gardening for Central Alabama"
9:00-11:00 a.m.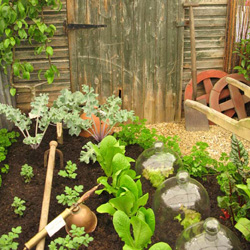 Location:
Aldridge Gardens
Description:
Instructor: James Horton, Director, Birmingham Botanical Gardens
Class size is limited. Pre-registration suggested.

Revive the Victory Garden! For beginner to intermediate gardeners, this seminar is focused on everything you need to know to start growing your own tasty vegetables. Learn from Garden Director James Horton the details of planting spring and summer vegetables including site selection, soil type, soil prep, timing of planting, vegetable varieties, planting techniques, organic and inorganic fertilizers, and how to manage insects and diseases. You will leave with hand-outs and the confidence to begin your own garden. Think globally. Grow locally.

This form stopped accepting submissions on April 6, 2013 9:00 am CDT.
---