Schedule of Classes
Meet the Artist Reception - Daniel A. Moore
5:00 to 7:00 p.m.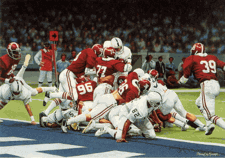 Location:
Aldridge House Gallery
Description:
Daniel A. Moore is known for his beautiful paintings that showcase some of football's greatest moments. And on this evening, you can meet the man behind these masterpieces and view some of his rarely-seen original works.

No single image represents Coach Paul W. "Bear" Bryant's defensive philosophy better than this historic play against Penn State in the 1979 Sugar Bowl. With fourth-and-goal inside the Alabama one-yard line, Mike Guman is stopped cold by linebacker Barry Krauss and the swarming Crimson Tide defense. The effort preserved the 14-7 victory for Alabama and clinched its tenth national title, the fifth under Coach Bryant. The Goal Line Stand was the artist's first of his many popular Alabama football paintings.
---