Schedule of Classes
Curb Appeal: Lessons from a Landscape Architect
6:30 to 9:00 p.m.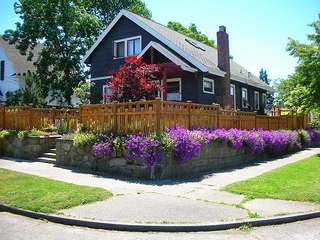 Description:
Tuesday, September 24
6:30 to 9:00 p.m.
Instructor: Rip Weaver, CLARB, ASLA, and Executive Director, Aldridge Gardens
$25 Members/$35 Non-Members
Class size is limited. Pre-registration is suggested.

Curb appeal for your home is all about first impressions. Landscape architect Rip Weaver will help you look at your yard objectively. Is there a focal point? Do the plantings complement the architecture? Do the design elements feel balanced and unified? Learn how to form a bold, uncluttered statement and go beyond the ordinary builder's landscape that many have inherited.

For class members who don't mind their homes being used as examples - and won't mind a class critique of your their home landscape - email five or more high- quality digital photos of your front yard as it appears from the street (like the one above), to rweaver@aldridgegardens.com BY SEPTEMBER 16. Also Include some up-close photos of your landscape as well, so plant masses can be identified. Selected photos will be examined during class. As individual home landscapes are discussed, all class participants will learn from these examples how to see a landscape as a basis for design.
This form stopped accepting submissions on September 24, 2013 6:30 pm CDT.
---