Schedule of Classes
Meet the Artist Reception - Nall
5:00 to 8:00 p.m.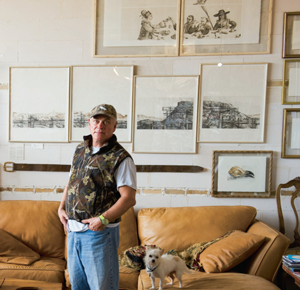 Description:
Meet Fred Nall Hollis – "Nall" – the internationally-known artist from Alabama. Nall has studios in Fairhope, Alabama, Monaco and Vence, France. He has pieces in permanent collection at the Pompidou Center in Paris, as well as other major museums. His clients include Prince Albert of Monaco, Catherine Deneuve and Ringo Starr, among others. Nall has curated works in Renaissance Marriot Hotels throughout Alabama, where he strives to give visitors a better understanding of the state's culture through its art.

This special event is sponsored by The Nall Foundation and Asian Rim Authentic Thai, Signature Sushi & Pan-Asian Cuisine

Photo courtesy: Alabama Magazine
This form stopped accepting submissions on March 27, 2014 5:00 pm CDT.
---