Event Info
2016 ANNUAL SPRING PLANT SALE
Saturday, April 30 - 10 a.m. to Noon - Preview of Hydrangeas and Roses to be Available at the Sale - No Shopping Yet, Though - Learn More and RSVP
Thursday, May 5 - 4 to 7 p.m. - Members Only Preview Sale
Friday, May 6 - 9 a.m. to 5 p.m. - Open to the Public
Saturday, May 7 - 9 a.m. to Noon - Open to the Public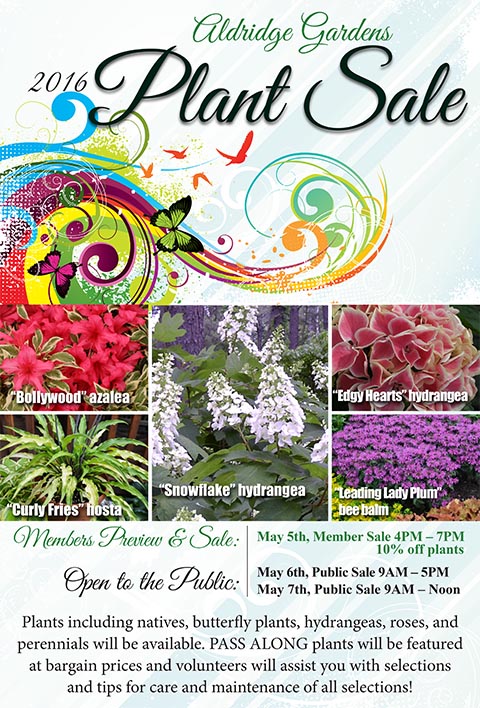 Shoppers will find many varieties and sizes of hydrangeas at our annual Spring Plant Sale!
Customers can own "a little bit of Aldridge Gardens" when they buy a pass-along plant that lived there! We are going to have many plants with an Gardens heritage including Bog Iris, Stella D'Oro daylilies, Lenten Roses, Ajuga, and more. In addition, we'll also have many more from members and friends of the gardens!
Our main feature is always the "Snowflake" hydrangea, but shoppers can also choose from "Bollywood" (azalea), "Silver Mist" (lavendula), "Edgy Hearts" (hydrangea), "Leading Lady Plum" (bee balm), "Miss Violet" (butterfly bush), "Curly Fries" (hosta), and Bog Iris. See a list of available plants here. 
Plus, at 10 a.m. on Saturday, April 30th, we'll have a special Preview of the Hydrangeas and Roses that will be available at the Spring Plant Sale. But no shopping yet! Get the details, and be sure to RSVP, if you'd like to join us. 
And, remember, members always get 10% off purchases!
---
---