Whispers From the Past
A Native American Experience
Sunday, October 5
11:30 a.m. to 7:00 p.m.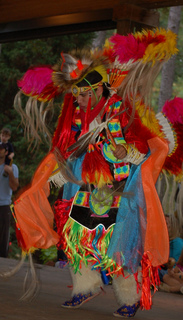 $7 admission for visitors 18 and older
$5 children 2 and older, and all crafts are included
Children younger than 2 are free
$30 family maximum
Please note this is a special event, and we will not offer free admission to the Gardens during Whispers from the Past.
Trolley service will run in a constant loop from the parking lot of Bed, Bath and Beyond from 11:30 a.m. to 7:00 p.m.
Bringing in more than 1500 people annually, this community-based project partners Aldridge Gardens with scholars in anthropology, archaeology, history, horticulture and ethnobotany, as well as leaders and representatives of the local Native American community. The purpose is to provide an accurate portrayal of the past and present of Alabama's various tribes through engaging introductions to the traditions, art, cultural practices and folkways of Southeastern Native Americans.
---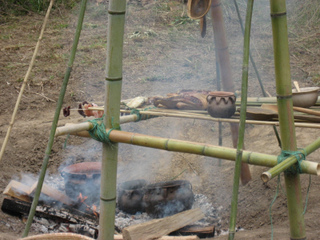 What visitors can expect to experience at Whispers from the Past:
• Tony Nichols, a Cherokee Indian, starts the day with a fire. He blesses Mother Earth, the wind and the fire, then tells stories and legends and plays the Indian flute. 
• Hear the sounds of drums and flutes, and the highlight of the day - three performances by Native American Poarch Creek Pow-Wow dancers. 
• Part of the Moundville Archaeological Collection, artifacts will be on display from sites around Alabama, including stone tools, pottery, arrowheads and ornaments.
• Long-time basket maker Ethel Owen demonstrates making her long-leaf pine needle baskets.
• Independent scholar Chip Wente demonstrates hunting and fishing tools, and traditional cooking methods.
• Naturalist Dr. Richard Cobb will present "Evolution of Culture and Technology in Prehistoric Alabama"
• The Gardens provides 7 beading looms for people to replicate beading patterns. Children can make bracelets.
• Children can get temporary "tattoos" from authentic Moundville Indian tattoo patterns.
• Close to 400 dried gourds will be provided for decorating.
• Children can make and decorate pottery bowls.
• Flintknappers demonstrate how Indians used antlers to chip the edges of arrow heads to make them sharp.
• Children can grind dried corn on an authentic grinding stone.
• Puppet show on "Bean Woman" which explains a Three Sisters Garden. See this type of garden that includes corn, beans and squash – all crops that are interdependent.
• Michael "Red Turtle" Maltzer will drum and tell stories, as well as demonstrate drum-making, gourd carving and bowl-making with period-correct tools.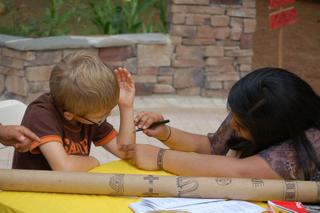 Demonstrations: Music, dancing, hunting, fishing, beading, planting, corn grinding, basketry, drum making and clay pot fabrication and decoration
Hands-on activities: Children will be able to recreate pottery, gourd crafts, Cherokee leaf pounding, corn grinding, and bead weaving. They will also able to play authentic Native American games and observe Native American dances.
Authentic vendors: Food vendors will sell general and Native American concessions, and other vendors and artisans will have baskets,pottery, shell carvings, gourd art, handmade flutes, woodburnings, jewelry, paintings, Southeastern tribal art T-shirts and more.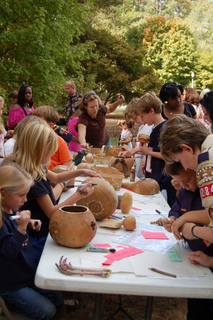 ---
Whispers activities are aligned with standards from the Alabama Course of Study. Children will demonstrate knowledge of prehistoric and historic American Indian cultures by participating in activities of early Native Americans.
Hoover City Schools will give teachers professional development credit for attending Whispers from the Past.
---