Whispers From the Past
A Native American Experience
Sunday, October 11, 2015 from 10:00 a.m. to 6:00 p.m.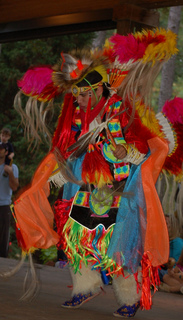 Bringing in more than 1500 people annually, this community-based project partners Aldridge Gardens with scholars in anthropology, archaeology, history, horticulture, and ethnobotany, as well as leaders and representatives of the local Native American community. The purpose is to provide an accurate portrayal of the past and present of Alabama's various tribes through engaging introductions to the traditions, art, cultural practices, and folkways of Southeastern Native Americans.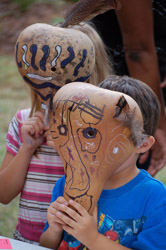 Demonstrations: Music, dancing, hunting, fishing, bead weaving on looms, planting, corn grinding, basketry, drum making, and clay pot fabrication and decoration
Authentic vendors: Food vendors will sell general and Native American concessions (fry bread, roasted corn, and Native American tacos), and other vendors and artisans will have pottery, shell carvings, gourd art, handmade flutes, woodburnings, jewelry, paintings, Southeastern tribal art, T-shirts and more.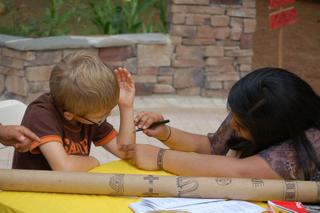 Hands-on activities: Children will be able to recreate pottery, gourd crafts, Cherokee leaf pounding, corn grinding, and bead weaving on looms (while supplies last). They will also able to play authentic Native American games and observe Native American dances.
Whispers activities are aligned with standards from the Alabama Course of Study. Children will demonstrate knowledge of prehistoric and historic American Indian cultures by participating in activities of early Native Americans.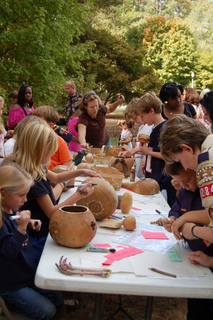 Admission at the gate
$10 for visitors 18 and older
$5 children 2 and older, and all crafts are included (while supplies last)
Children younger than 2 are free
Offsite parking available at the Bed Bath & Beyond parking lot on Lorna Road. Hoover trolleys will pick up next to Lorna Road and take visitors to the Gardens.
Our 2015 event is sponsored by:
Cawaco Resource, Conservation & Development Council 
and
Alabama Tourism Department
---