Event Calendar
Summer Camp: Cool Art in the Gardens Grades 4th-5th
Monday, June 5, 2017 9:00 am - 12:00 pm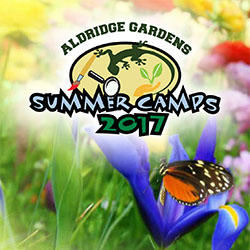 Description:
June 5 - 9
Entering Grades 4 – 5

Cool Art in the Gardens: Looking at the World differently!

Instructor: Erika Patterson, BA Public Relations, BA Art Studio, MA Art Education

Students will be involved in projects that connect art and nature. The beautiful landscape of the gardens will provide an outdoor art studio where children can let their creativity grow. Students will practice a wide variety of art techniques, from watercolor painting to sculpture and leaf pounding. Our week will be filled with creativity, new friends, and moments of age appropriate inspiration that will delight a young artist.

This form stopped accepting submissions on June 5, 2017 9:00 am CDT.
---