Spring Plant Sale
12TH ANNUAL SPRING PLANT SALE
Thursday, May 1 Members Only Preview Sale 4:00 to 6:00 p.m.
Friday, May 2 9:00 a.m. to 5:00 p.m.
Saturday, May 3 8:00 a.m. to 12:00 p.m.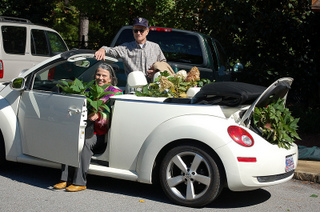 Shoppers will find many varieties and sizes of hydrangeas at our 12th annual Spring Plant Sale!
Choose from Snowflake, All Summer Beauty and much more. Also find natives, bulbs and companion plants. See below for descriptions and more information on available and featured plants this year.
And remember, members always get 10% off purchases!
---
2014 Featured Plants
Teasing Georgia Rose
This David Austin® yellow rose features inner petals in the form of a deep yellow cup with outer petals falling back and fading to pale yellow in a two-tone effect. It is appearing for the first time at Aldridge Gardens along with 10 other David Austin varieties.
Photo courtesy davidaustinroses.com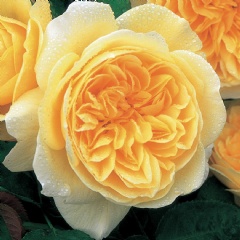 ---
White Feathers Hosta
This is a truly unique hosta with white leaves in the spring that transform into a blend of cream and green will add magic to your garden. Add flowers like lavender with this plant and it will illuminate your landscape. The white is showy and bright.
This is the first time Aldridge Gardens has had White Feathers Hostas during the spring sale.
Photo courtesy edenbrothers.com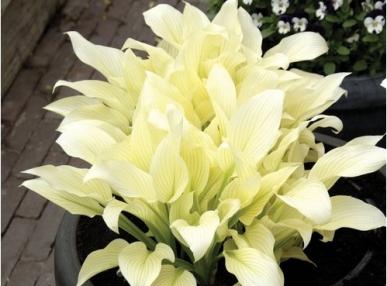 ---
Gatsby's Star Hydrangea
This oak leaf hydrangea cultivar features beautiful double white flowers. The unique flowers are pointed in the shape of small stars instead of being rounded.
Gatsby's Star Hydrangea is offered for the first time at the Aldridge Garden's annual spring plant sale along with Gatsby's Gal and Gatsby's Moon.
Photo courtesy provenwinners.com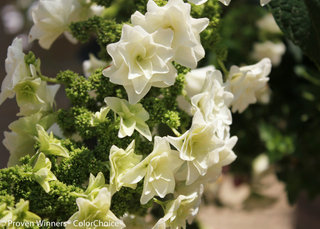 ---
Plumleaf Azalea
This native azalea grows 15' or more in full sun to part shade. It features red flowers in summer and is a great attractor for butterflies, bees and hummers. It is offered for the first time at Aldridge Gardens along with 13 other native and hybrid azaleas.
Photo courtesy statebystategardening.com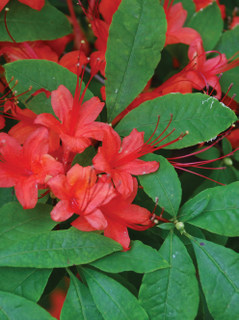 ---
Snowflake Oakleaf Hydrangea
This is Aldridge Gardens' showcase plant with its large flower heads of intricate double blossoms. It is absolutely beautiful in full bloom and also produces outstanding fall color.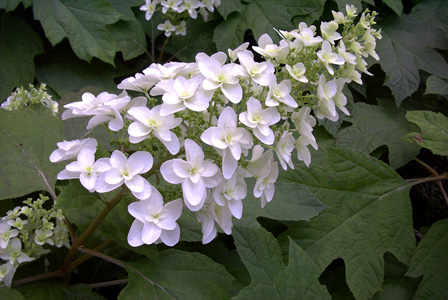 ---
Plants available at the 2014 annual Spring Plant Sale
Alabama Natives (many are host and nectar plants for butterflies):
Genie Brannon clematis,
Lily of the Valley
Bleeding Heart
Coneflower
Hearts a Bustin'
American alumroot
Buxum Beauty
Blazing Star
Cardinal flower
Passion vine
Jacob's ladder
Black-eyed Susan
Goldenrod Fireworks
New England Aster
Wherryii foamflower
Doll's Eyes
Jack in the Pulpit
Swamp Milkweed
Milkweed
False Indigo
Barbara's Buttons
Alabama Native Azaleas:
My Mary
Alabama
Nancy Calloway
Sweet, Coastal
Marydel
Florida
Piedmont
Red Hills
Weston's Lollipop
Oconee
Plumleaf*
Hammocksweet
Swamp
Hydrangeas:
Dooley
Nikko Blue
Limelight
Little Lamb
Petiolaris
Decumaria
Preziosa
Ami Pasquier
Sara
Domotoi
Glory Blue
Madame Emile Mouillere
Beaute Vendermoise
King George
Red Star
Oregon Pride
Royal Purple
David Ramsey
Sister Theresa
Snowflake
Munchkin
Fuji Waterfall
Bombshell
Fire and Ice
Annabelle
Snow Queen
All Summer Beauty
Hayes Starburst
Mini Penny
Pee Wee
Harmony
Gatsby's Star*
Gatsby's Gal
Butterfly Bushes:
Blue Chip
Black Knight
Attraction
Golden Glow
Perennial Bulbs, Rhizomes and more:
Agapanthus (Umbellatus blue, Umbellatus white)
Calla Lily (Flame hybrid, Passion fruit, Purple sensation, Garnet Glow)
Japanese iris (Ensata Gracieuse)
Bearded Iris ( Before the Storm)
Daylily (Ruby Stella, Stella Supreme)
Hosta (Big Daddy, Great Expectations, Ivory Coast, Diamond Necklace, White Feathers*
Wylde Green Cream
Ranunculus
Red Canna lilies
White Ginger lilies
Yellow Swamp Iris
David Austin Roses:
The Dark Lady
Lady of Shallot
L.D. Braithwaite
Lichfield Angel
Mary Rose
Molineux
Carding Mill
Crown Princess Margareta climber
Teasing Georgia*
Winchester Cathedral
Companion Plants:
Alabama lip fern
Tassel ferns
Southern Wood fern
Autumn fern
Christmas fern
Oriental hellebores
variegated Fatsia japonica
Madison Jasmine
Snowball Viburnum
*2014 featured plants
---