Event Calendar
Hydrangea Propagation Workshop
9:30 to 11:30 a.m.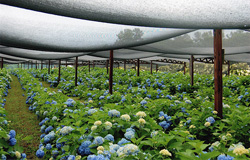 Description:
THIS CLASS HAS REACHED CAPACITY
9:30 to 11:30 a.m.
Instructed by Willie Edmiston and David Doggett, Hydrangea Propagators
$20 Members/$27 Non-members
Class is limited to 30 participants, please preregister.

Hydrangeas are a major component of most Southern gardens. This hands-on workshop will teach you an easy way to propagate hydrangeas for yourself. Class fee includes 56-quart Sterilite propagation box, rooting hormone, potting soil, and pots. Class members may root up to three fresh hydrangea cuttings to take home. Bring your pruners and scissors for trimming leaves. We'll also learn how to propagate hydrangeas from seed and layering.
This event form reached its attendee limit.
---