Event Calendar
2nd ANNUAL JIM BROADWATER MEMORIAL GOLF TOURNAMENT
Tuesday, June 25, 8:00 a.m. shotgun start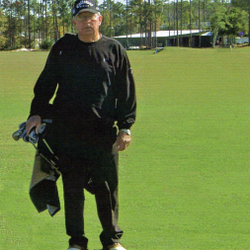 Location:
Oxmoor Valley Golf Course
Description:
$100 per player

Jim Broadwater loved golf and he loved the Gardens.

In December of 2010, while on the golf course at Limestone Springs, Jim whiffed a ball for the first time since he picked up a club. Realizing something was wrong with his depth perception, he went to the doctor, and was diagnosed with Creutzfeldt-jakob disease - or CJD.

Throughout his battle with the illness, Jim stayed active by walking around the lake at Aldridge Gardens. When walking became too difficult, he found peace sitting by the lake or having a picnic under the trees.

Jim decided to make a donation to the Gardens for the creation of a Children's Water Folly - a whimsical, fun and interactive structure that will provide hours of entertainment. With pumps, water wheels and things that spin, when construction is complete, the water folly designed by Master Roycrofter Robert Taylor will capture the spirit of Jim and appeal to the child in all of us.

Proceeds from the memorial tournament will help build the Children's Water Folly and make Jim's dream a reality.

To register for the 2nd Annual Jim Broadwater Memorial Golf Tournament, please call Rip Weaver or Debbie Bartoletti at 205.682.8019.
---