Veterans Memorial Arbor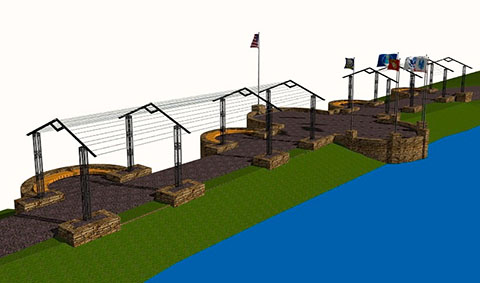 We are very excited and proud to honor our veterans through a new project. We began installing the support columns during the second week of March, which means that our planned Veterans Memorial Arbor will soon span the 125-foot dam on our lake. It will include a ceremonial area overlooking the water and will feature all of the service branch flags, as well as the U.S. flag. The arbor will have comfortable seating areas and will be covered by flowering vines. The supporting cast iron columns will have a unique modern design. Our illustration above gives you an idea of what it will look like when completed, but it does not show any of the plantings.
The public is invited to become an important part of this project by making donations towards its construction. A $2500 donation will purchase a flag pole or a bench, which will include a bronze plaque honoring an individual veteran or group of veterans you wish to remember. This can include those who have served our country and those who are currently serving now. All of our columns for this project have been sold. If you want to be a part of this project, please let us know soon -- before the remaining pieces are all taken as well. 
Brick pavers are also available with a contribution of $250 each. The pavers are 8" x 8", and can be customized with four lines of text (with up to 15 characters per line including spaces). You will want to download the paver form (just below) in order to provide us with your customizing information. Then please mail us your paver form along with payment to Aldridge Gardens, Attention Veterans Memorial Arbor Pavers, 3530 Lorna Road, Hoover, AL 35216.
Of course, donations of any amount are also greatly appreciated and will be used to fund the construction of this arbor. For more information on general donations for this project, please contact our offices at (205) 682-8019. To reserve a flagpole or a bench in honor of a former or current service member, please use our online registration and payment form below.
Veterans Memorial Arbor Donation
---