Great Reasons to Join the Gardens!
---
MEMBERS-ONLY HOURS
Aldridge Gardens has special members-only hours from 4:00 to 7 p.m. during daylight savings time (spring, summer, and early fall) and 3:00 to 4:30 p.m. during standard time (late fall and winter).
---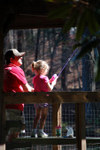 MONDAYS THROUGH THURSDAYS YOU'LL HAVE A REEL-LY GREAT TIME!
It's too far to drive to the lake in the middle of the week, but you can still have a reel-ly great time here at the Gardens! Bring your gear and enjoy late-afternoon fishing Monday through Thursday. We promise we won't tell anyone why you cut out of work early!
---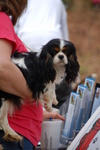 WALK WITH YOUR DOGS MONDAY THROUGH THURSDAY AFTERNOONS
Members don't have to wait for "Paws in the Gardens" to enjoy a walk with their pooches - now they can bring leashed dogs to the Gardens Monday through Thursday afternoons. With new spots to sniff and smell, your furry friends will love you for switching up the same old neighborhood stroll!
---
MEMBERS-ONLY GUIDED BIRD WALKS
See the Gardens in a whole new way when you enjoy a 2-hour guided bird walk!

8:00 to 10:00 a.m.

One Saturday morning each month, Dr. Richard and Patricia Ryel guide up to 15 members on a trek to discover the birds of Aldridge Gardens. Throughout past seasons, more than 80 members participated in the walks. In 2014, the groups saw and identified 63 species of birds - averaging 26 species per outing from March through November. That's quite a testament to the bird diversity within the 30 acres comprising beautiful Aldridge Gardens!

In 2016, come on out and see the amazing birds of Aldridge Gardens for yourself. Don't forget to bring binoculars and cameras so you don't miss a thing!

Members-Only Guided Bird Walks are free, but each is limited to 15 members. Reservations are required.
---
Interested in these members-only events? Click above to learn more about member benefits and levels of membership at Aldridge Gardens.
---