Calendar of Events
Propagator Wine Reception - Steve Taylor
Tuesday, October 10, 2017 5:00 pm - 6:00 pm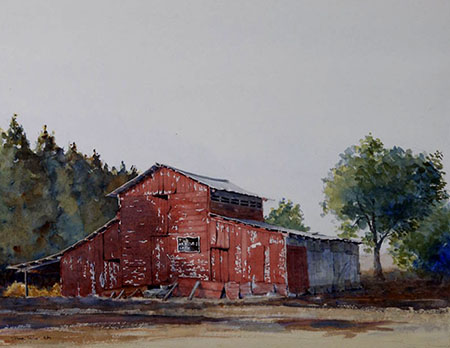 Location:
Eddie and Kay Aldridge Arts and Historical Collections Museum
Description:
Propagator level members will enjoy their monthly wine reception while mixing and mingling with the artist.

Detail is something you don't often see a lot of in watercolor paintings, but that's not the case with our October and November featured artist. Come and meet Steve Taylor, the architect turned artist who first picked up a paint brush only six years ago.

Here's what Steve said about painting in a recent Hoover's Magazine article:
"My preferred medium is watercolor. Primarily because of the inherent qualities, or 'personalities' associated with fluid pigments. Sometimes, it's like dancing with 'Sybil'. One moment everything is in harmony but then it can turn on you in an instant. There is a special sereneness about working with a wet medium on semi-wet paper. Transparent pigments take on a life of their own as they mix and blend with one another while still in a fluid state. For me, painting with watercolor requires total concentration, almost a meditative state. The drawing is just as important as the painting because of the transparent nature of watercolor. A lot of marks will be visible in a finished painting due to the transparency of the medium, so the character of a painting can very well be established before the first stroke of a brush."

Here's another great quote from Steve taken from that recent Hoover's Magazine article:
"Every painting creates its' own memories. The first watercolor that I completed was a portrait of my Dad. I sat down the day that he passed away and didn't get up until it was finished. Needless to say, there was more moisture on that paper than just tap water. It remains a favorite of mine. I have been very fortunate throughout my life to be able to create things. I have been asked as an architect, what I felt when I enter buildings that I designed. The answer is the same as a mentor of mine, Mr. Don Morrison, told me many years ago, 'I think of what could have been done differently to make it better.'"

Join us on the 10th to hear Steve speak directly about his exhibit.

This propagator member event will roll into the general artist reception beginning at 6 p.m.

This form stopped accepting submissions on October 10, 2017 5:00 pm CDT.
---