Calendar of Events
Summer Camp: Awesome Art & Creative Crafts
9:00 a.m. to Noon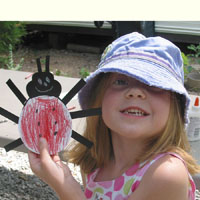 Description:
June 17 through 21
Entering 2nd or 3rd grades

This week is designed for kids who just can't get enough of delving into arts and crafts. Using children's literature, music and nature in the Gardens for inspiration, we'll paint, draw, mold, design, build and imagine with an enormous array of arts and crafts materials for producing exciting creations. Bring your imagination and creativity for a week of pure fun!

Instructor: Kim Killgore, B.S. Elementary Education
This form stopped accepting submissions on June 17, 2013 9:00 am CDT.
---