Calendar of Events
Summer Camp: Aldridge Agents
9:00 a.m. to Noon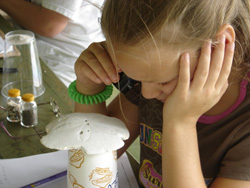 Description:
June 24 through 28
Entering Kindergarten through 1st grade

Calling all curious kids! This camp is designed to provide playful, hands-on experiences with nature. Campers will use their senses and imagination to search for meat-eating plants, berries and plants that heal, as well as capture insects and have fun exploring with their natural curiosity. They'll learn through nature walks, crafts, stories and games. Parents, please read "Last Child in the Woods" by Richard Louv. This week is based on his philosophy of connecting children with nature.

Instructor: Stefanie Fort, B.A. Early Childhood, B.A. Elementary Education,
M.A. Instructional Leadership, National Board Certified Teacher
This form stopped accepting submissions on June 24, 2013 9:00 am CDT.
---