Summer Camps 2021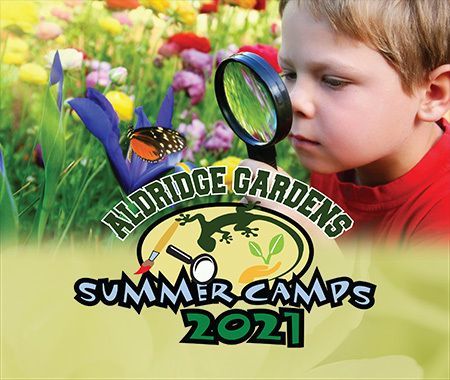 Learn all about our Summer Camps at Aldridge Gardens for 2021. Space is very limited and available on a first-come basis.
Please note that we will be taking precautions related to the pandemic. Aldridge Gardens is closely following the City of Hoover and the CDC health guidelines. For the safety of all visitors, volunteers, and staff, we will be social distancing as required. Masks are encouraged.
We have plenty of camps to choose from for boys and girls entering kindergarten through 5th grades. Whether your little campers like American Girl Dolls, art, origami, myth busters, STEAM (Science, Technology, Engineering, Art, and Math) or engineering and construction, we have something they're sure to enjoy. 
See below for a list of the camps being offered this summer. Click on the name of each camp to go to its respective page. There you can learn more about it and register. 
American Girl Doll Camps - Entering 5K to 3rd Grades
Entering 5k to 3rd Grades
Entering 3rd to 5th Grades

Day camps run from 9:00 a.m. to Noon, Monday through Friday. Mid-morning snacks and drinks are provided.
All teachers are Alabama Educators.
Pre‐registration required. Register early. Camp enrollment is limited!
Cost:
Family Level Members of Aldridge Gardens: $120 per camp
Non-Members of Aldridge Gardens:  $140 per camp
Changes to registration (moving from one camp to another, etc) will cost an additional $35
Registration:
Enrollment is limited and pre-registration required. 
Cancellation refunds may be made in the month of registration only. No cancellations after May 1.
If you have questions or need more information, please contact Debbie McDonald, Education Director, at debbie.mcdonald@hooveralabama.gov or call 205.739.6555.
Please download our Emergency Medical Form and Carpool Authorization. Then fill it out, sign it, and bring with you on the first day of camp.