---
Don't Miss Our Annual Greenery Sale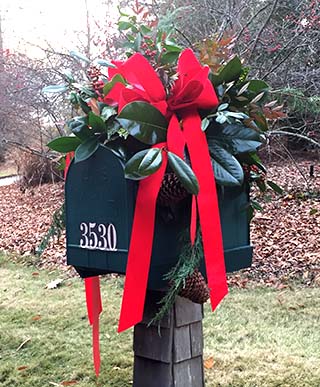 Mark your calendars for Saturday, December 3rd! You don't want to miss your chance to get fresh greenery for wreaths, garlands, and other holiday decorations! Get the details. 
---
Gifts of Art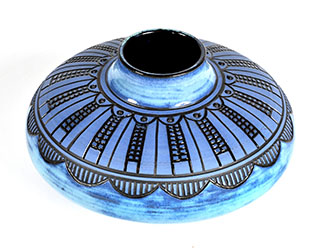 Make plans now to stop by the Gardens on December 8th between 10 a.m. and 8 p.m. Come in and shop for original gifts created by nine hand-selected Alabama artists. Learn more about it. 
---
Have your party at Aldridge Gardens!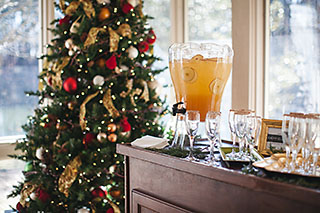 If you are planning a Christmas party, a family reunion, a wedding, a corporate meeting, or retreat, our professional event planners can help make your day perfect. With its unique atmosphere and a variety of indoor and outdoor venues, Aldridge Gardens offers an exceptional setting for your special event. Learn more about it. 
---
Board Member Mark Davis Receives Freedom Award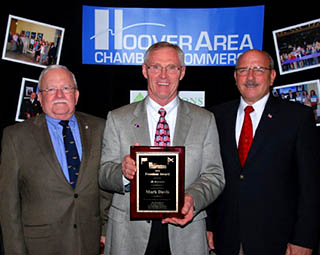 Take a look at the Hoover Sun's article on Mark Davis, the recipient of the Hoover Area Chamber of Commerce's 2016 Freedom Award.
---
Proud to be a Top Ranked Tourist Attraction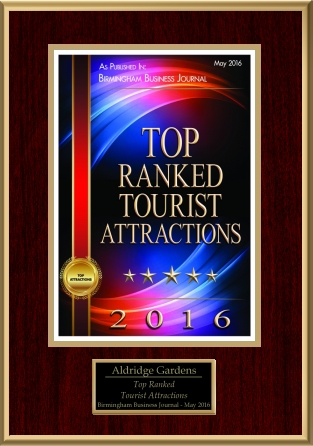 Aldridge Gardens recognized in Top Ranked Tourist Attractions, Birmingham Business Journal, May 2016!
---
CLASSES & EVENTS

__________________________________

Art by Don Stewart

On exhibit during October and November.

__________________________________

PARTNERS IN TOURISM

__________________________________

We're delighted to be part of the Alabama Garden Trail!

__________________________________

SPRING AND SUMMER HOURS

Aldridge Gardens is open 7 days a week from 8:00 a.m. to 5:00 p.m.
Guests of private events are welcome after 4:30 p.m.
The museum and gallery are open 9:00 a.m. to 4:00 p.m. daily, except when events are scheduled.
Admission to the Gardens is always free.
Everyone is invited to enjoy our walking trails but ask you not to run or jog on them. Our trails are very natural and not conducive to running.

Members are invited to walk their leashed dogs and fish our lake Mondays through Thursdays, from 4:00 to 7 p.m. during daylight savings time (spring, summer, and early fall) and 3:00 to 4:30 p.m. during standard time (late fall and winter). Please make sure to clean up after your pet. However, fishing and dog walking will be restricted during weddings or other special events.

__________________________________

2016 SUSTAINING SPONSORS

Our Gardens are successful thanks to those whose generous sponsorships enable us to maintain and sustain the grounds, and to provide activities and events. Because of this, we would like to sincerely thank the following sponsors:

- Agricultural Services
- Alabama Power Foundation
- Eddie and Kay Aldridge
- Blue Cross Blue Shield of Alabama
- International Expeditions
- Ken Jackson
- Jim McLane
- Signature Homes
- Councilman Gene Smith and Pam Smith

__________________________________
---