---
Mosaic Memory Flower Pot Workshop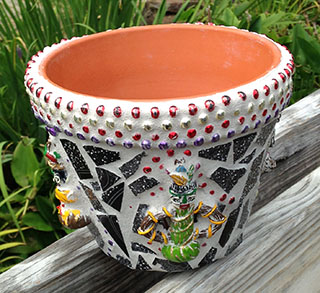 Join us on Saturday, March 12th and Sunday, March 13th for this special two-session workshop. You can learn how to make your own mosaic memory flower pot using momentoes like old jewelry, coins, keys, beads, to commemorate a special trip or time in your life.  Get more details and register here. 
---
Veterans Memorial Arbor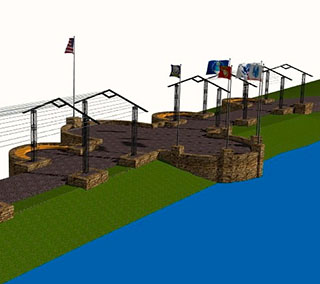 Learn about the Veterans Memorial Arbor project that will soon span the 125-foot dam on our lake. The structure will include a ceremonial area overlooking the water and will feature all of the service branch flags, as well as the U.S. flag. See how you can play a part in its construction, while also honoring those who have served our country. Get the details. 
---
Alabama Garden Trail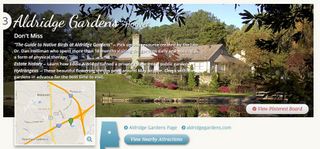 We're delighted to be part of the Alabama Garden Trail!
You can explore and experience the Alabama Garden Trail from the top of the state all the way down to the Gulf - and of course right here in Hoover! Visit the official travel site of Alabama to learn more.
---
Can you spot "Snowflake" our albino squirrel?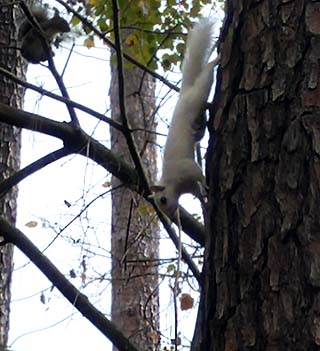 Have you ever seen "Snowflake" at Aldridge Gardens? He's a rare white squirrel. His coat is a color variant within this highly variable species. The most common sightings of white squirrels are isolated individuals with a completely white coat but dark eyes, a condition known as leucistic. This variant appears to spring up sporadically all over the species' range and then dies out, only to pop up again somewhere else. True "albinos" are even less common, probably because without the eye pigment to reduce glare, their vision is impaired and they may suffer more from falls. (Information courtesy of the White Squirrel Research Institute. Photo by Michael Newton.)
---
CLASSES & EVENTS

__________________________________

Art by Robin Metz

__________________________________

PARTNERS IN TOURISM

__________________________________

FALL AND WINTER HOURS

Aldridge Gardens is open 7 days a week from 8:00 a.m. to 4:30 p.m.
Guests of private events are welcome after 4:30 p.m.
The museum and gallery are open 9:00 a.m. to 4:30 p.m. daily, except when events are scheduled.
Admission to the Gardens is always free.

Firearms are not allowed in Aldridge Gardens.

Members are invited to walk their dogs from 3:00 p.m. until close on Mondays and Wednesdays, except when weddings or other special events are scheduled. In addition, members are also invited to fish our lake Mondays, Tuesdays, Wednesdays and Thursdays from 3:00 p.m. until close, except when weddings or other special events are scheduled.

__________________________________

2015 SUSTAINING SPONSORS

Our Gardens are successful thanks to those whose generous sponsorships enable us to maintain and sustain the grounds, and to provide activities and events. Because of this, we would like to sincerely thank the following sponsors:

- Agricultural Services
- Eddie and Kay Aldridge
- Blue Cross Blue Shield of Alabama
- Energen Corporation
- International Expeditions
- Ken Jackson
- Ed and Barbara Randle
- Renasant Bank
- Councilman Gene Smith and Pam Smith

__________________________________
---