---
12TH ANNUAL SPRING PLANT SALE
Thursday, May 1 Members Only Preview Sale 4:00 to 6:00 p.m.
Friday, May 2 9:00 a.m. to 5:00 p.m.
Saturday, May 3 8:00 a.m. to 12:00 p.m.
The 2014 plant sale is bigger and better than ever!
Choose from more than 100 different plants including Alabama natives, Alabama native azaleas, hydrangeas, butterfly bushes, David Austin roses, perennial bulbs, rhizomes, companion plants and more!
This year you'll find the star of our show, Snowflake Hydrangea, and for the first time we're also featuring Teasing Georgia Rose, White Feathers Hosta, Gatsby's Star Hydrangea and Plumleaf Azalea.
Come out and learn how these can make lovely additions to your landscape!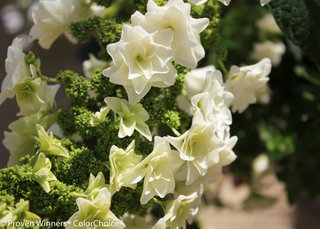 ---
ART IN THE GARDENS
Some of the best artists in the country live right here in Alabama. June 21 and 22, 2014 is your chance to stroll through the Gardens, see their works up close, and of course, shop!
---
HYDRANGEAS UNDER THE STARS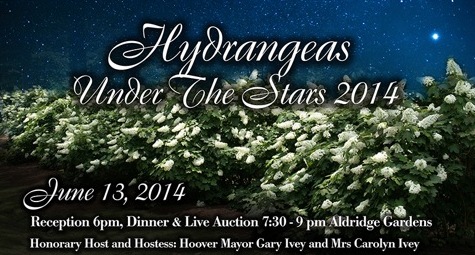 Mark your calendars now for June 13 - the night of the premier garden gala of the season!
Join us and honorary host and hostess Hoover Mayor Gary Ivey and Mrs. Carolyn Ivey for a night of food, drink, a live auction and a lot of fun under the stars - all to benefit Aldridge Gardens.
Learn more, reserve a table or purchase individual tickets now.
---
BIRD WALKS ARE BACK!
Whose ready to get out and enjoy some spring sunshine and fresh air?
Last year our members spotted 48 species of birds during Saturday morning walks in the Gardens. What exciting things will we see migrating through our area in 2014? Grab your binoculars and join us from 8:00 to 10:00 a.m. on the third Saturday of each month to find out!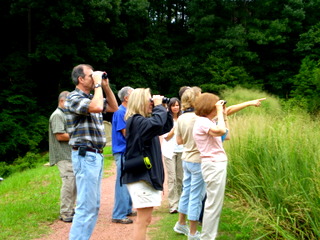 ---
N A L L: FLOWERS AND ALL THINGS GREEN

__________________________________

SPRING AND SUMMER HOURS

Aldridge Gardens is open 7 days a week from 8:00 a.m. to 4:00 p.m.
Guests of members-only and private events are welcome after 4:00 p.m.
The museum and gallery are open 9:00 a.m. to 4:00 p.m. daily, except when events are scheduled.
Admission to the Gardens is always free.
---