---
It's Time For Our Annual Plant Sale!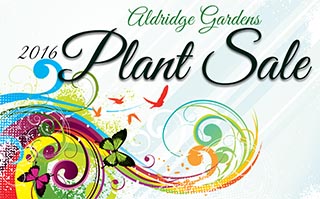 Don't miss our annual Spring Plant Sale! Find the perfect plants for your container or garden spot. Volunteers and gardeners will be on hand to help with selections and to give advice about placement, care, and maintenance. Learn more about the sale here and/or see a list of the plants available for sale here. 
Plus, at 10 a.m. on Saturday, April 30th, we'll have a special Preview of the Hydrangeas and Roses that will be available at the Spring Plant Sale. Get the details and be sure to RSVP if you'd like to join us. 
---
Prom Photos at the Gardens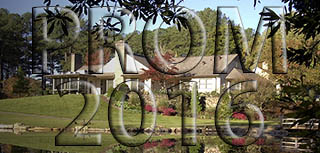 Appointments and requests for prom pictures at Aldridge Gardens must be scheduled and approved by staff due to weddings and specialty events. We will do our best to accommodate your request and appreciate your patience and understanding. Thank you.
- The Aldridge Gardens Staff (info@aldridgegardens.com)
---
Hydrangea Propagation Workshop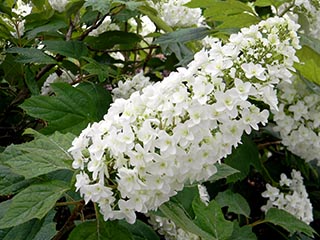 This hands-on workshop, scheduled for May 14th, will show you how to root fresh hydrangea cuttings. Come and learn how to propagate hydrangeas for yourself. And you'll get to take them home too! Learn more about it.
---
Register for Summer Camps!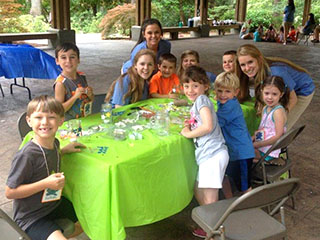 June will be here before you know it! Sign the kids up for summer camp today. We have many different camp topics to choose from, including American Girls, nature, building, and engineering. Find out more and register here.
---
Mark Your Calendar for Hydrangeas Under the Stars!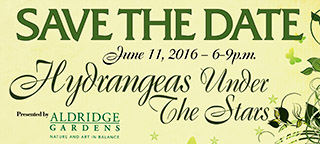 This event sold out last year! Seating and tables will be limited, so get your tickets early. Please take a look at our calendar of events page to purchase tickets online. Sponsorships are also still currently available. Don't miss out on this great event!
---
Veterans Memorial Arbor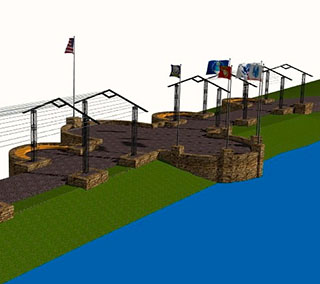 Learn about the Veterans Memorial Arbor project that will soon span the 125-foot dam on our lake. The structure will include a ceremonial area overlooking the water and will feature all of the service branch flags, as well as the U.S. flag. See how you can play a part in its construction, while also honoring those who have served our country. Get the details. 
---
Guided Bird Walks At The Gardens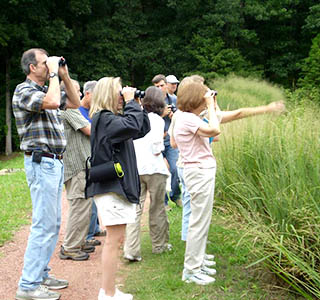 For the fourth consecutive year, Richard and Patricia Ryel are leading our members-only guided bird walks. These will generally be held on the 3rd Saturday of each month from 8 - 10 a.m. To see the dates of this year's currently scheduled bird walks and to register, click here. 
---
CLASSES & EVENTS

__________________________________

Art by Durand Seay

On exhibit during April and May

__________________________________

PARTNERS IN TOURISM

__________________________________

We're delighted to be part of the Alabama Garden Trail!

__________________________________

SPRING AND SUMMER HOURS

Aldridge Gardens is open 7 days a week from 8:00 a.m. to 5:00 p.m.
Guests of private events are welcome after 4:30 p.m.
The museum and gallery are open 9:00 a.m. to 4:30 p.m. daily, except when events are scheduled.
Admission to the Gardens is always free.

Members can fish our lake every Monday, Tuesday, Wednesday, and Thursday from 3 to 4:30 p.m. in fall and winter, and 4:30 to 7 p.m. in spring and summer. In addition, members are invited to walk their leashed dogs on Mondays and Wednesdays from 3 to 4:30 p.m. in fall and winter, and 4:30 to 7 p.m. in spring and summer. However, fishing and dog walking will be restricted during weddings or other special events.

__________________________________

2016 SUSTAINING SPONSORS

Our Gardens are successful thanks to those whose generous sponsorships enable us to maintain and sustain the grounds, and to provide activities and events. Because of this, we would like to sincerely thank the following sponsors:

- Agricultural Services
- Eddie and Kay Aldridge
- Blue Cross Blue Shield of Alabama
- Energen Corporation
- International Expeditions
- Ken Jackson
- Councilman Gene Smith and Pam Smith
- Jim McLane

__________________________________
---