---
Mosaic Memory Flower Pot Workshop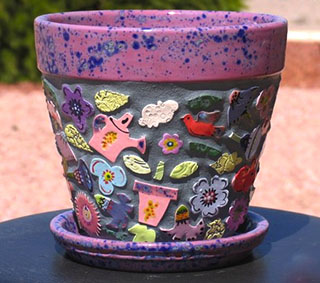 Get ready to turn a special memory into a mosaic flower pot that you can enjoy for years to come. Join us for our workshop and transform small keepsakes into a colorful container for your flowers or potted plants. August 24 and 25, 6 - 8 pm each night. Learn more about it. 
---
Aldridge Gardens Travel Club is going to Costa Rica!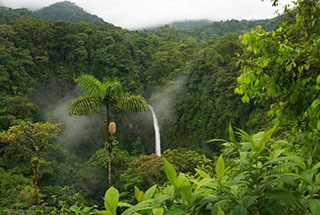 Where better to be in November than Costa Rica? From lush forests and stunning waterfalls to exotic wildlife and endless coastlines, it is truly a beautiful slice of paradise. Learn more about how you can experience it with the Aldridge Gardens Travel Club. This 9-day trip of a lifetime is only $2599 from Birmingham.
---
Alabama Garden Trail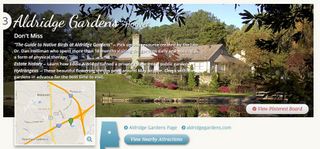 We're delighted to be part of the Alabama Garden Trail!
You can explore and experience the Alabama Garden Trail from the top of the state all the way down to the Gulf - and of course right here in Hoover! 
Visit the official travel site of Alabama to learn more.
---
CLASSES & EVENTS

__________________________________

Bethanne Hill

Showing June 11 through July 31

__________________________________

SPRING AND SUMMER HOURS

Aldridge Gardens is open 7 days a week from 8:00 a.m. to 5:00 p.m.
Members-only hours are 5:00 to 7:00 p.m. daily.
Guests of private events are welcome after 5:00 p.m.
The museum and gallery are open 9:00 a.m. to 4:30 p.m. daily, except when events are scheduled.
Admission to the Gardens is always free.

Members are invited to walk their dogs from 4:00 p.m. until close on Mondays and Wednesdays, and to fish our lake Mondays, Tuesdays, Wednesdays and Thursdays from 4:00 p.m. until close.

__________________________________

2015 SUSTAINING SPONSORS

Our Gardens are successful thanks to those whose generous sponsorships enable us to maintain and sustain the grounds, and to provide activities and events.

Our sincere thanks to these 2014 Sustaining Sponsors:

Blue Cross Blue Shield of Alabama
Energen Corporation
International Expeditions
Ed and Barbara Randle
Renasant Bank
Gene and Pam Smith

__________________________________
---