---
SUMMER CAMP 2013
Your kids are going to love the Gardens!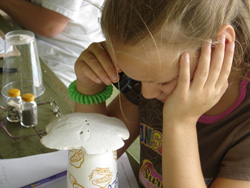 This summer, Aldridge Gardens has day camps planned for kids of all ages and with all interests!
Little campers can enjoy journeys through the Gardens with their American Girls, or they can enter a world of make-believe and excitement with wizards and fairies. Others will be introduced to the powers of nature at Super Heroes camp. For kids who want their summer break to be out of this world, Aldridge has Mission Control: Space Week! There's also Awesome Art & Creative Crafts for those who love creating, Theater in the Gardens for aspiring thespians, and curious kids will enjoy hands-on experiences with nature at Aldridge Agents camp.
---
11th ANNUAL ART IN THE GARDENS
Sponsored by Hoover Arts Alliance
June 1 and 2
9:00 a.m to 5:00 p.m.

Some of the best artists in the country live right here in Alabama. Stroll through the Gardens, shop and see their works up close.
---
HYDRANGEA PROPAGATION WORKSHOP
Saturday, June 4

Hydrangeas are a major component of most Southern gardens. In this hands-on workshop, instructors Willie Edmiston and David Doggett will teach attendees the easy way to propagate hydrangeas for themselves.
---
MEMBERS-ONLY GUIDED BIRD WALKS!
Saturday, June 15
8:00 to 10:00 a.m.
Led by Dr. Richard and Patricia Ryel
Bird walks are free, but each is limited to 15 members.
Meet in front of Aldridge House and step out on a journey to see Aldridge Gardens like you never have before! Enjoy a 2-hour guided walk with Dr. Richard and Patricia Ryel and discover the birds of Aldridge Gardens. Bring binoculars and cameras so you don't miss a thing!
---
TASTE OF HOOVER POSTPONED

We're working on rescheduling this fun festival for the Fall. We'll let you know as soon as we have a new date.

__________________________________

Right now get 25% off every shrub for sale at Roots!

__________________________________

Cheekwood Botanical Garden and Museum of Art
Nashville
June 19

This is one of the best times of the year to visit Cheekwood, with a front-row seat for the season's arrival. To top off the tour, we will be among the first guests to see the new stunning outdoor art installation Light by acclaimed-British artist Bruce Munro.

__________________________________

__________________________________

SUMMER HOURS

Aldridge Gardens is open 7 days a week from 8:00 a.m. to 4:00 p.m.
Guests of members-only and private events are welcome after 4:00 p.m.
The museum and gallery are open 9:00 a.m. to 4:00 p.m. daily, except when events are scheduled.
Admission to the Gardens is always free.
---