Volunteering at Aldridge Gardens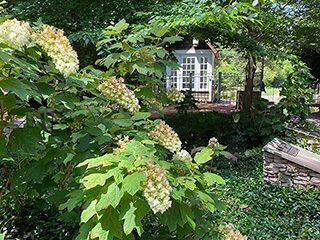 Volunteering at Aldridge Gardens is about so much more than just gardening. While we do need help around the grounds, your time and talents in other areas are valuable, too. We have ongoing opportunities from greeting visitors at the gatehouse to working in our gift shop and even helping out with our Spring Plant Sale.
Gatehouse Greeter
One of the BEST jobs at the Gardens! You can be the first smiling face our guests see when they visit. Responsibilities include answering questions, handing out maps/scavenger hunts and literature, selling fish and duck food, being knowledgeable of special events taking place, and keeping the daily guest count. Several different shifts are available.
Roots Garden and Gift Shop
Our little gift shop sells gardening supplies, local items, jewelry, gift items and more! A variety of shifts are needed for this spot.
Spring Plant Sale
We are also already planning for our Spring Plant Sale to be held in April. Our committee plans to meet the 1st and 3rd Wednesday of each month leading up to this annual event. Let us know if you'd like to be a part of it!
If you are interested in volunteering and would like more information, contact Janet Abernathy at janet.abernathy@hooveralabama.gov.
To become a volunteer at Aldridge Gardens, please complete one of our online applications (either adult or student) found in the site navigation under the volunteer menu.
Here is a link to the Adult Volunteer Application.
Here is a link to the Student Volunteer Application.
Thank you - and we look forward to working with you!