ROOTS, our garden and gift shop, has a lot to offer!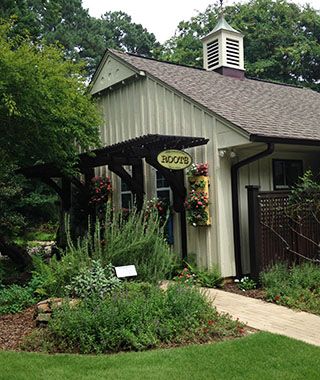 Stop in to experience stress-free shopping for great gifts. Follow the arbor-covered path to display areas showcasing plants, pots and containers, books, home and garden accessories, and more.
Located on the side of the Aldridge house, ROOTS is regularly open Monday through Friday from 10 a.m. to 3 p.m. However, since the gift shop is volunteer run, our hours can vary. Please call ahead at 205.739.6553 to make sure we are open.
Take the little brick pathway, beside the Aldridge House, to ROOTS petite gift shop. There you will find a small seasonal selection of hydrangeas and other ornamental shrubs, in season. Take a peek inside our gift shop and be delighted at our collection of craft jewelry, books, home and garden accessories, gift items, and more. You never know what you might find for gift giving. Visitors can see rain water recycling first hand by checking out our own rain barrel, installed by Alabama Environmental Center. Stop by for a visit soon.