2017 Spring Plant Sale - Available Plants

Great plants for CONTAINERS and COMPLEMENTS – get help on selections for your containers or garden spots.
 
Plants available - Bollywood azalea, Purple and white beautyberry, Miss Muffett, White Christmas and White Queen caladiums, Professor Sargent and Tricolor camellias, Coleosaurus and Wasabi coleus, Spider's Web Fatsia, Autumn, Christmas, Shaggy Shield and tassel ferns, Florida anise, Purple fountain grass and Pink Cloud Muhly grass, Madison Jasmine, Red buckeye, Redbud, David Austin roses – Darcy Bussel, Munstead Rose, Tranquility - Hummingbird Summersweet, Henry's Garnet Sweetspire, Best Densa and Chinese Snowball Viburnum, Scarlet Curls Corkscrew Willow and Creeping Plum Yew.
Feature plant is the Green Mountain Boxwood – many in cone shape! Come early for this one!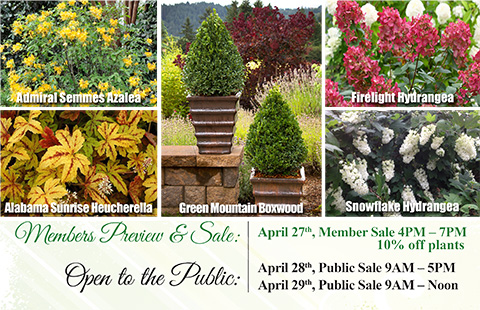 It's all about HYDRANGEAS at Aldridge Gardens – come out early for some of your old favorites and some new cultivars. There is a hydrangea for everyone – shade lovers, sun lovers, container lovers and mass planting lovers!
Hydrangeas available - All Summer Beauty, Annabelle, Bobo, Bounty, Chantilly Lace, Cityline Mars, Firelight, Gatsby Gal, Gatsby Moon, Gatsby Star , Harmony, Common Oakleaf, Incrediball, Invincibelle Spirit, Let's Dance Starlight, Limelight, Little Lime, PeeWee, Pinky Winky, Snow Queen, Tuff Stuff and Zinfin Doll.
We always feature our favorite SNOWFLAKE hydrangeas and this year we are featuring another "hot" number called FIRELIGHT. It loves the sun and is hardy starting with white flowers that turn to varying shades of pink and red. You must come out early to get one!
We also have a little "imposter" this year, a "false hydrangea" called Rose Sensation. This beauty likes to climb and shows off with hydrangea like pink petals.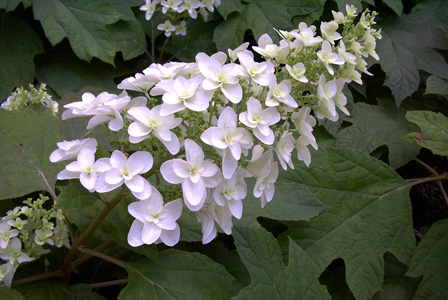 Go NATIVE – these are drought resistant plants and are almost always ready to pull butterflies, bees and hummers into your yard or garden.
Natives and/or hybrids available - Alabama phlox, Climbing, Heath, Stoke's and White Wood asters, Jacob Cline, Marshall's Delight and Peter's Purple Bee Balm, Brown-eyed Susan, Black-eyed Susan, Bleeding Heart, Blue Heaven, Cranzberry, and Tutti Fruitti Butterfly bushes, Butterfly Weed, Blazing Star, Cardinal Flower, Chaste tree, Climbing Hydrangea, Purple Coneflower, Golden Alexander, Jack in the Pulpit, Joe Pye Weed, Lance Leaf Coreopsis, Passion flower vine, Pipevine, Pineapple Sage, Lemon Jade and Pure Joy Sedum, Swamp Milkweed, Cerise and Paprika Yarrow.
We are featuring the CONFEDERATE SERIES of native and hybrid Azaleas including Admiral Semmes, Pvt LaFayette Acree, Robert E Lee and Stonewall Jackson. In addition to these spectacular azaleas we also have Baker Dean, Pat's Pink, Sanford Sorbet as well as AUBURN creations – "Aubie" and "Tiger" azaleas.
*Sorry – could not get Crimson Tide – we tried.
Take home a MEMORY of some of your grandmother's favorite PASS ALONG PLANTS. Some of these plants have come right out of Aldridge gardens so that you can share in our heritage including amaryllis, yellow bog iris, red canna lilies, Stella D'Oro daylilies, Southern Shield ferns, Swamp marigolds, white spider lilies, lamb's ear, purple iris, and more. Others come from our member's and volunteer's yards including white ginger lilies, Mexican petunias, variegated ivy, Monkey grass, and salvia.
We have ordered some new favorites for the sale including Amethyst Myst, Fire Chief, Georgia Peach, Southern Comfort and Venus coral bells (Heuchera), Brass Lantern, Cascade Gold, Gold Zebra, Tapestry and our show favorite, ALABAMA SUNRISE Heucherella (hybrid coral bells and foam flower). And of course we want you to have a great selection of hostas with Brim Cup, Grand Canyon, Komodo Dragon, Rainforrest Sunrise, St Elmo's Fire and Titanic. Did you catch it? Some are REALLY big!
Don't miss out on spring favorites like Lenten Roses as well – Christmas Rose and Red Mountain. These are first-timers at the AG Spring Sale and will go early!
---
---