2016 Spring Plant Sale - Featured Plants
HYDRANGEAS
"All Summer Beauty", "Annabelle", "Blue Bunny", "BlueBird", CityLine® Series ("Berlin", "Mars", "Paris", "Rio"), "Dooley", "Edgy Hearts" (FEATURE PLANT), "Gatsby Gal", "Gatsby Moon", "Gatsby Star", "Harmony", Let's Dance® Series ("Big Easy", "Blue Jangles", "Diva"), "Munchkin", Common Oak Leaf, "Pee Wee", "Ruby Slippers", "Snow Queen", "Snowflake" (SHOW FAVORITE).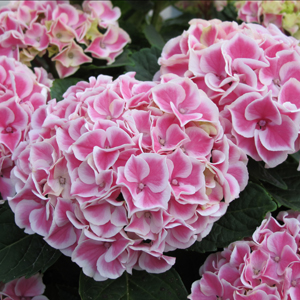 ---
NATIVES and BUTTERFLY PLANTS
New England Aster, Native and hybrid azaleas ("Oconee", "Pink Phlox", "PlumLeaf", "Razzberry", "Red Hills", "Sweet", "Weston's Lollipop"), "Leading Lady" Bee Balm (FEATURE PLANT), "Pardon My Lavender" Bee Balm, Black-Eyed Susan, Butterfly bushes ("Crown Jewels", "Pink Micro Chip", "Purple Haze", "Little Angel", "Miss Molly", "Miss Violet", "Queen of Hearts"), Cardinal Flower, Chastetree, "Bright Star" Coneflower, "Magnus" Coneflower, Joe Pye Weed, "Carl" Sedum, "Cinderella Pink" Milkweed.
---
ROSES and COMPLEMENTARY PLANTS
"Bollywood" Azalea, "Silver Mist" Lavendula, David Austin® roses ("Darcy Bussell", "Graham Thomas", "Munstead Wood", "Olivia Rose", "Tranquility"), "Double Play" Red Spirea, "Painted Lady" Spirea, "Lil' Ditty" Viburnum, Winter Daphne. Assorted ferns.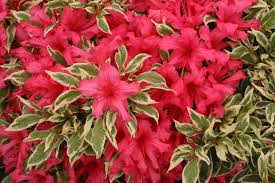 ---
PASS ALONGS and Aldridge Gardens Heritage Plants (grown at AG)
Coral Bells ("Braisin Raisin", "Cinnamon Curls", "Lime Marmalade", "Ruffles & Tuffles"), Hosta ("Blue Mouse Ears", "Curly Fries" (FEATURE PLANT), "Earth Angel", "Guacamole", "Lemon Love Note"), "Ayesha" hydrangea, Bugleweed (Ajuga), Confederate Rose, "Lucifer" Crocosmia, Assorted Daylilies, "Ditch Lily" Daylilies, "Stella D'Oro" Daylilies (from AG), Lenten Rose, Mexican petunias, Mexican sunflowers, Monkey grass (Liriope), White Ginger Lily, White Spider Lily, Black and Blue salvia, Hearts a Bustin', Southern Shield fern and more.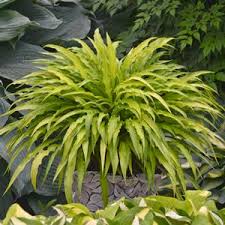 ---
SNOWFLAKE OAKLEAF HYDRANGEA
This is Aldridge Gardens' showcase plant with its large flower heads of intricate double blossoms. It is absolutely beautiful in full bloom and also produces outstanding fall color.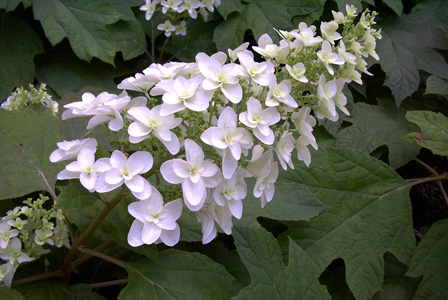 ---
---