---
See You There!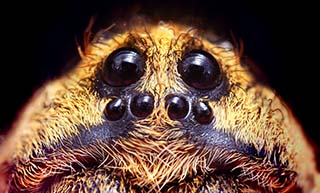 Want to be able to tell the difference between venomous and non-venomous spiders? Come and hear Dr. Drew Hataway tell us all about these fascinating creatures. Our Creepy Crawly Spiders of Alabama class will be on Monday, October 24th at 6:30 p.m. Learn more about it. 
---
Alabama Hydrangea Society Meeting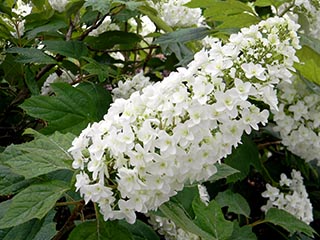 Interested in learning more about Hydrangeas and other related gardening topics? Join us at 1:00 p.m. on October 26! Get more details here. 
---
Veterans Memorial Arbor Dedication
Scheduled for Nov. 7th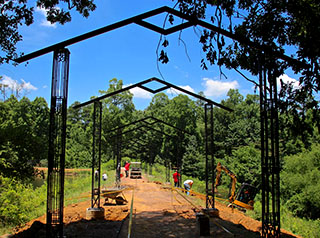 Learn about the Veterans Memorial Arbor project that will soon span the 125-foot dam on our lake. The structure will include a ceremonial area overlooking the water and will feature all of the service branch flags, as well as the U.S. flag. See how you can play a part in its construction, while also honoring those who have served our country. Get the details. 
---
Board Member Mark Davis Receives Freedom Award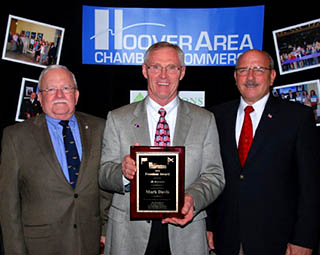 Take a look at the Hoover Sun's article on Mark Davis, the recipient of the Hoover Area Chamber of Commerce's 2016 Freedom Award.
---
Guided Bird Walks At The Gardens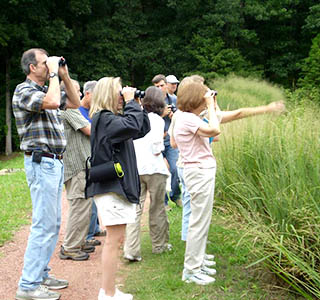 For the fourth consecutive year, Richard and Patricia Ryel are leading our members-only guided bird walks. These are generally held on the 3rd Saturday of each month from 8 - 10 a.m. To see the dates of this year's currently scheduled bird walks and to register, click here. 
---
Proud to be a Top Ranked Tourist Attraction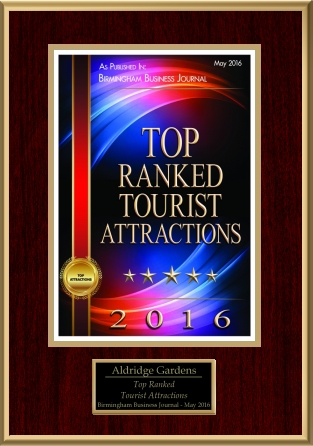 Aldridge Gardens recognized in Top Ranked Tourist Attractions, Birmingham Business Journal, May 2016!
CLASSES & EVENTS

__________________________________

Art by Don Stewart

On exhibit during October and November.

__________________________________

PARTNERS IN TOURISM

__________________________________

We're delighted to be part of the Alabama Garden Trail!

__________________________________

SPRING AND SUMMER HOURS

Aldridge Gardens is open 7 days a week from 8:00 a.m. to 5:00 p.m.
Guests of private events are welcome after 4:30 p.m.
The museum and gallery are open 9:00 a.m. to 4:00 p.m. daily, except when events are scheduled.
Admission to the Gardens is always free.
Everyone is invited to enjoy our walking trails but ask you not to run or jog on them. Our trails are very natural and not conducive to running.

Members are invited to walk their leashed dogs and fish our lake Mondays through Thursdays, from 4:00 to 7 p.m. during daylight savings time (spring, summer, and early fall) and 3:00 to 4:30 p.m. during standard time (late fall and winter). Please make sure to clean up after your pet. However, fishing and dog walking will be restricted during weddings or other special events.

__________________________________

2016 SUSTAINING SPONSORS

Our Gardens are successful thanks to those whose generous sponsorships enable us to maintain and sustain the grounds, and to provide activities and events. Because of this, we would like to sincerely thank the following sponsors:

- Agricultural Services
- Eddie and Kay Aldridge
- Blue Cross Blue Shield of Alabama
- International Expeditions
- Ken Jackson
- Jim McLane
- Signature Homes
- Councilman Gene Smith and Pam Smith

__________________________________
---