---
Creepy Crawly Spiders Class!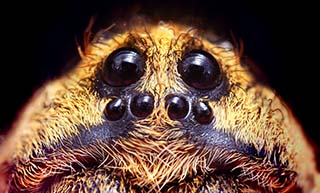 Want to be able to tell the difference between venomous and non-venomous spiders? Come and hear Dr. Drew Hataway tell us all about these fascinating creatures. Our Creepy Crawly Spiders of Alabama class will be on Tuesday, October 24th at 6:00 p.m. Learn more about it.
---
Tai Chi in the Gardens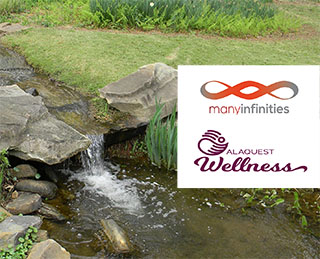 Please join us for a FREE Tai Chi class Tuesdays at 9 a.m. during October. (That's Oct. 24th, and 31st.) This beginners class will focus more on mindfulness and body awareness than form. Please RSVP to let us know you'll be there to try it out. Click on a date to learn more and please register for each date that you'd like to attend.
---
Yoga in the Gardens - Oct. 25th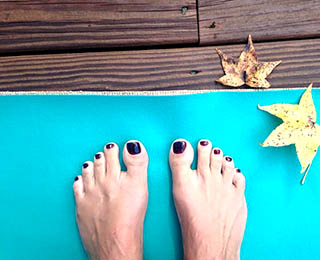 Want to try yoga? Looking for a welcoming environment with a slower pace and lots of instruction? Then this is for you. Come and take part on Wednesday, October 25th, from 9 to 10 a.m. Learn more and register.
---
Hydrangea Society Meeting - Oct. 25th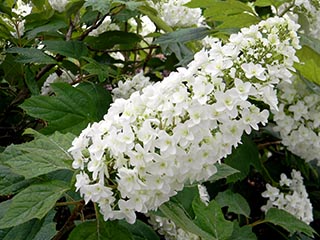 Interested in learning more about Hydrangeas and other related gardening topics? Join us at 1:00 p.m. on October 25th! Get more details here.
---
Members-Only Guided Bird Watch - November 18th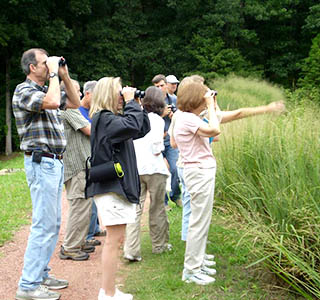 Our November 18th bird walk (8 - 10 a.m.) will be the last one scheduled for 2017. Click here to learn more and register! 
---
It's not too late to be a part of our Veterans Memorial Arbor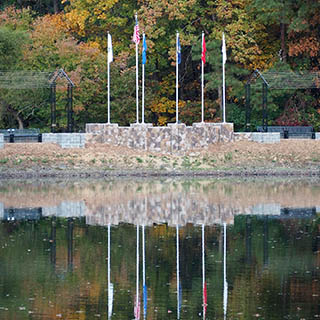 You can still reserve benches and pavers to honor veterans through our Veterans Memorial Arbor. Learn more and find out how.
 
---
Look Who's Turning 50!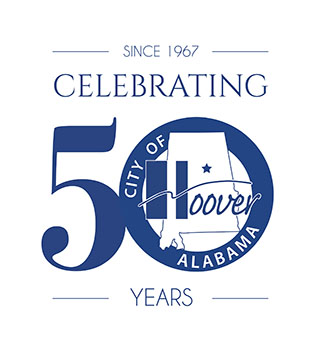 Congratulations to the City of Hoover on your 50th anniversary! We are so happy and proud to be a part of such a wonderful place to shop, eat, work, and live. Learn more about this great city we call home. 
 
---
Best of Borrowed & Blue - Second Year in a Row!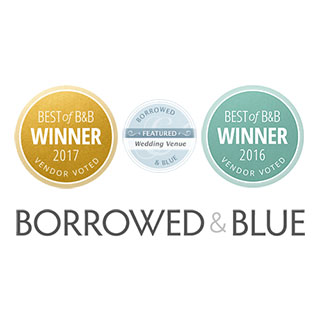 Aldridge Gardens has again been named the Best Intimate Venue in Birmingham by wedding planning website Borrowed & Blue! We are proud to receive this honor as voted on by vendors. Get more details.
 
---
Proud to be a Top Ranked Tourist Attraction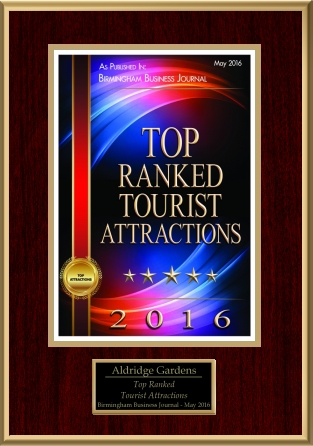 Aldridge Gardens recognized in Top Ranked Tourist Attractions, Birmingham Business Journal, May 2016!
---
CLASSES & EVENTS

__________________________________

Artist Steve Taylor

On exhibit from October through November.

__________________________________

PARTNERS IN TOURISM

__________________________________

We're delighted to be part of the Alabama Garden Trail!

__________________________________

HOURS OF OPERATION

Aldridge Gardens is open 7 days a week from 8:00 a.m. to 6:00 p.m.
We have an additional members-only hour from 6 to 7:00 p.m.
Admission to the Gardens is always free.
Everyone is invited to enjoy our walking trails but ask you not to run or jog on them. Our trails are very natural and not conducive to running.

Members are invited to walk their leashed dogs and fish our lake Mondays through Thursdays, from 4:00 to 7 p.m. Please make sure to clean up after your pet. However, fishing and dog walking will be restricted during weddings or other special events.

__________________________________

2017 SUSTAINING SPONSORS

Our Gardens are successful thanks to those whose generous sponsorships enable us to maintain and sustain the grounds, and to provide activities and events. Because of this, we would like to sincerely thank the following sponsors:

- Agricultural Services
- Alabama Power Foundation
- Eddie and Kay Aldridge
- Blue Cross Blue Shield of Alabama
- Ken Jackson
- Jim McLane
- Councilman Gene Smith and Pam Smith

__________________________________
---