Calendar of Events
Alabama Hydrangea Society Meeting
Wednesday, August 23, 2017 1:00 pm - 2:00 pm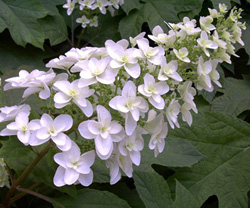 Location:
Aldridge House at the Gardens
Description:
TOPIC: Birmingham Gardening Today
SPEAKER: Dr. John Floyd

John Floyd graduated from Auburn University and earned from Clemson University a Master's in Horticulture with a minor in Plant Taxonomy and a PhD in Plant Physiology with a double minor in Horticulture and Botany. After university, John taught Horticulture at Jefferson State Junior College and ran a landscape design business. He joined Southern Living as Senior Horticulturist and was later named Vice President and Editor-In-Chief of Southern Living for 18 years. For years John has volunteered weekly along with Mike Rushing and Bob Wendorf ("the three doctors") to maintain the Japanese Garden at the Birmingham Botanical Gardens.

John has developed a web site for gardeners called Birmingham Gardening Today (www.birminghamgardeningtoday.com). It provides truly local gardening advice for both beginner and experienced gardeners. "Good gardening information is very local," says John. Like our gardens, the site changes with the seasons. The web site explains what gardening tasks to do now, what is currently in bloom, and offers readers advice from John on their gardening questions.

ALABAMA HYDRANGEA SOCIETY
Interested in learning more about Hydrangeas and other related gardening topics? We invite you to visit and join the Alabama Hydrangea Society. Meetings take place five times a year at Aldridge Gardens (3530 Lorna Road, Hoover) at 1:00 p.m. on the 4th Wednesday of these months: January, March, June, August, and October. Membership is $15 per year for an individual or $25 per couple. Visitors are always welcome to attend.

Aldridge Gardens is the perfect setting to inspire one's learning more about the various types of Hydrangeas.

---