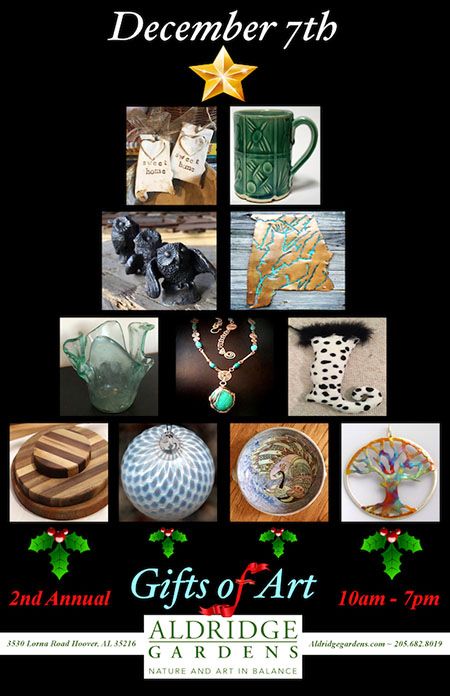 Thursday, Dec. 7th from 10 a.m. to 7 p.m., Aldridge Gardens will host the Second Annual "Gifts of Art" event!
Enjoy one-of-kind works of art crafted by 12 hand-selected Alabama artists, working in ceramics; glass; wood; iron; jewelry; and fabric. Functional, wearable, decorative, and Alabama-inspired items, right in time for the season of giving! Rain or shine, this indoor show takes place in the beauty and comfort of the Aldridge Gardens gallery in Hoover. Bring a friend, come on your lunch break, or enjoy the evening with us. Free admission.
Artists include:
Dan Browning - Wood
Barbara Dollar - Silver Jewelry
Heather Hepp - Glass
Julie Jackson - Inspirals Jewelry
Patricia Koski - Recycled Glass
Tracy Leventry - Ceramics
Karen Libecap - Miniature Paintings
Robin Metz – Multimedia
Cindy Phillips - Ceramics
Joanna Sanders - Earthwear
Nancy Walton - Fabric
Ajene Williams - Sloss Furnace Iron
"Gifts of Art" is Dec. 7 ONLY. 10 a.m. to 7 p.m.