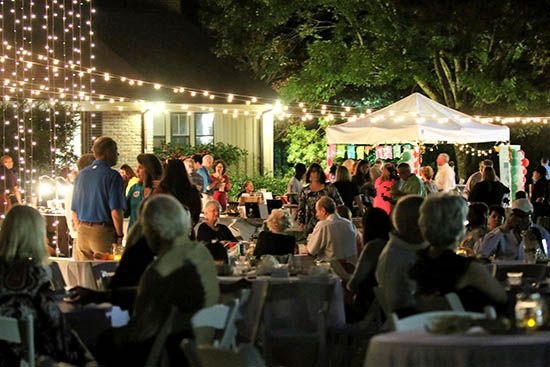 TICKETS GO ON SALE MONDAY, AUGUST 9TH
Taste of Hoover celebrates the variety of culinary styles found throughout the city.
As always, you can expect to enjoy an autumn evening with us strolling through the Gardens and sampling delicious dishes from some of Hoover's best restaurants, caterers, and more. Plus you can taste distilled spirits, international wines, and local beers while listening to live entertainment.
Ticket prices have not yet been set for 2021.
In the past, children 12 and under have been free.
Only a limited number of tickets will be available. This event has sold out many times in the past.
Please note, there are no physical paper tickets. Upon registration, your name(s) will be added to our "will call" list and you will simply need to check in when arriving at the event. No refunds will be available.
Please be aware that this is a special event and we will not offer free admission to the Gardens during Taste of Hoover.
We're accepting vendor applications for our 2021 event. (See our vendor application form at the bottom of this page.) And to give you an example of what to expect, here's our list of area restaurants and Aldridge Gardens' preferred vendors who served up tasty samples from their menus in 2020.
2020 Restaurants and Caterers
Bojangles
Bruno's Hospitality
Cajun Roux
CakEffect
Carrabba's Italian Grill
Chicken Salad Chick
The Craft Burger
Culvers
Edible Arrangements
Emily's Heirloom Poundcakes
Eugene's Hot Chicken
The Happy Catering Company
Jefferson's Restaurant
Jimmy Johns
Jubilee Joe's
Melt
Merks Tavern & Kitchen at the Hyatt
Pho Pho Asian Cuisine
R&S Catering
Rock N Roll Sushi
Rowzac Caribbean Restaurant
Savoie Catering
Sprouts Farmers Market
Super Chix
Tazikis
The Cajun Steamer
The Whole Scoop Ice Cream
Tre Luna Catering; Tre Luna Bar and Kitchen
Walk-Ons
2020 Concessionaires
Back Forty Beer
Chattanooga Whiskey
Coca Cola
Dread River Distillery
International Wines
Santos Coffee
Interested vendors for our 2021 event, please contact Jennifer Gowers Davis at 205-918-7670 or jennifer@goproeventsolutions.com. Our vendor application form is available for download under "related links" at the bottom of this page.
Taste of Hoover is sponsored by the Hoover Sun and BlueCross/BlueShield of Alabama.
We also want to give a special thank you to our Volunteers and the Hoover School Foundation! We couldn't do it all without you.