Azalea Talk - Garden Members Class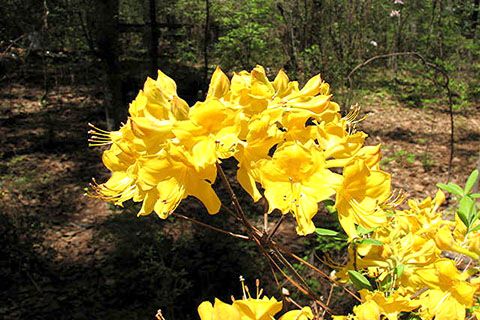 All Aldridge Gardens educational classes are now cancelled until further notice in an attempt to prevent the spread of COVID-19.
"Aromi Azaleas – Native Azaleas from an Alabama Native'"
Join us for a presentation on and discussion of Aromi Azaleas with David Doggett.
Aldridge Gardens has one of the few collections of Aromi azaleas in the state, with over 19 different varieties. Dr. Eugene Aromi was a Mobile native, university professor, and "amateur" gardener. Around 1970 he began experimenting crossing deciduous azaleas native to the Mobile area with the elaborately and colorfully blooming English hybrids known as Exbury azaleas. His goal was to produce superior blooming deciduous azalea hybrids that could stand up to south Alabama's heat and humidity. Dr. Aromi performed over 1,000 crosses and evaluated over 50,000 plants - of which he selected just over 100 to be named. The plants were donated some years ago by Maarten van der Giessen who has inherited Dr. Aromi's work. This program reviews the history of hybridizing azaleas and shows beautiful photos of Dr. Aromi's life's work.
This is a free class for Aldridge Gardens Members, March 26th at 10 a.m., Education Building. Use the "Register Now" button at the top of this page to RSVP for this event and please make sure to bring your Aldridge Gardens membership card with you.
Instructor:
David Doggett