Taste of Hoover
Get Tickets
Remaining tickets will be available at the gate.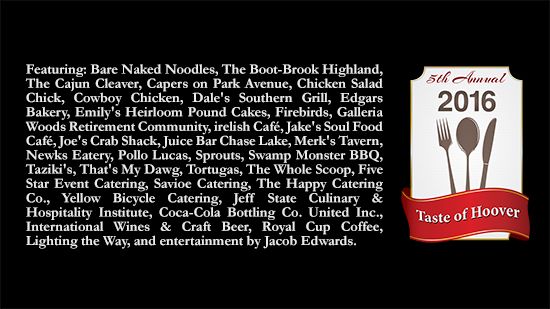 Taste of Hoover celebrates the variety of culinary styles found throughout the city.
Enjoy an autumn evening with us strolling through the Gardens and sampling delicious dishes from some of Hoover's best restaurants, caterers, and more. Taste international wines and local beers while listening to live entertainment.
Tickets are $30 members/$40 non-members
Only a limited number of tickets will be available. In fact, our 2015 event sold out.
Please note this is a special event and we will not offer free admission to the Gardens during Taste of Hoover.
Here's a list of Hoover restaurants and Aldridge Gardens' preferred vendors who will be serving scrumptious samples from their menus. (Updated 9-27-16) More should be added soon:
Restaurants
Bare Naked Noodles
The Boot - Brook Highland
The Cajun Cleaver
Capers on Park Avenue
Chicken Salad Chick
Cowboy Chicken
Dale's Southern Grill
Edgars Bakery
Emily's Heirloom Pound Cakes
Firebirds
Galleria Woods Retirement Community
Gigi's Cupcakes
irelish Café
Jake's Soul Food Café
Joe's Crab Shack
Juice Bar Chase Lake
Merk's Tavern
Newks Eatery
Pollo Lucas
Salvatore's Pizza & Pasta
Sprouts
Swamp Monster BBQ
Taziki's
That's My Dawg
Tortugas
The Whole Scoop
Caterers
Savioe Catering
Five Star Event Catering
The Happy Catering Co.
Yellow Bicycle
More
Jeff State Culinary & Hospitality Institute
Coca-Cola Bottling Co. United Inc
International Wines & Craft Beer
Royal Cup Coffee
Lighting the Way
Entertainment
Jacob Edwards
Interested vendors, please contact Tynette Lynch at 205.682.8019 or tlynch@aldridgegardens.com. Our vendor application form is available for download under "related links" at the bottom of this page.
Taste of Hoover is sponsored by the Hoover Sun.
Online ticket sales closed at 2:00 p.m.
Remaining tickets will be available at the gate while supplies last.