Event Calendar
Propagator Wine Reception - Plein Air Artists
Tuesday, October 9, 2018 5:00 pm - 6:00 pm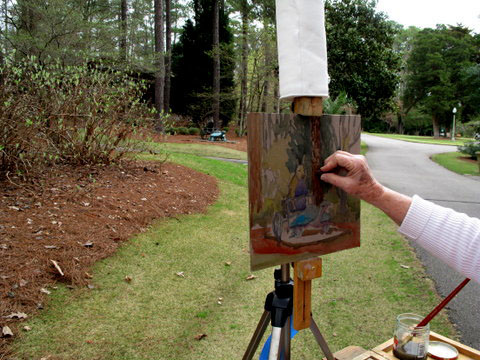 Location:
Eddie and Kay Aldridge Arts and Historical Collections Museum
Description:
Propagator level members will enjoy their monthly wine reception while mixing and mingling with the artists.

"Alabama, Then and Now" is a commemorative and educational art exhibit of 30 original paintings in honor of Alabama's Bicentennial! All paintings were created by members of the Alabama Plein Air Artists (APAA) who gather monthly around the state, to paint en plein air (in the "open air") outdoors, from life. The paintings depict landmarks and regions of Alabama where these artists live or have traveled and painted from life. Subjects include bridges and barns; gins and mills; the natural beauty of Alabama; industry; architecture; sports; and popular culture.

From October 2018 - November 2019, this juried exhibit will tour through Hoover; Fort Payne; Huntsville; Mobile; Tuscaloosa; Auburn; Athens; Pike Road; and the State Capitol in Montgomery, with most venues hosting Opening Receptions. Many paintings will be for sale. Entry is free and open to the public.

This exhibit is officially endorsed by the Alabama Bicentennial Commission.

The tour kicks off with an Opening Reception on Tuesday, October 9th 6-7 p.m. at Aldridge Gardens.

Come meet the artists and learn more about the stories behind the paintings!

Look out for a special feature of the "Alabama Then and Now" Exhibition in the upcoming issue of Hoover's Magazine.

This propagator member event will roll into the general artist reception beginning at 6 p.m.

This form stopped accepting submissions on October 9, 2018 5:00 pm CDT.
---