City of Hoover's 22nd Annual Arbor Day Celebration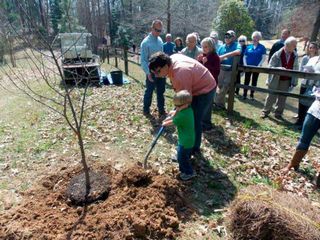 Join us at Aldridge Gardens on Saturday, March 7th from 9:30 to 11:30 a.m. for the 22nd Annual Hoover Arbor Day Celebration.
Presented by the Hoover Beautification Board, this community-wide celebration will feature a formal ceremony honoring winners of this year's 4th Grade Arbor Day Essay Contest, FREE TREES for Hoover residents, a ceremonial tree planting, full access to Aldridge Gardens and the Roots gift shop, as well as assorted refreshments from local businesses. ISA Certified Arborists and other plant professionals will be on site to answer tree related questions and to assist residents with selecting an appropriate tree for their yard.
An additional feature of the 2020 celebration will be the official measuring of what may be a new Guinness World Record in the category of World's Largest Oak Leaf! Discovered late last year in Sumter county, AL, this gigantic cherrybark oak leaf will be on display during the Arbor Day ceremony and measured immediately following, per the Guinness guidelines.
Arbor Day in Hoover is the result of a continued partnership between the City of Hoover, Hoover City School System, Alabama Power, Aldridge Gardens, local businesses, and numerous volunteers. These partners believe in the value trees bring to our community and they understand the importance of planting the right tree in the right place.
Photo courtesy: Hoover Sun