American Girl Dolls Camp June 22-26 (5k-3rd)
SOLD OUT
Credit card payment will be processed through PayPal. You do not need a PayPal account to do this.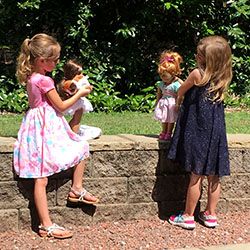 June 22 - 26
Entering Grades 5k – 3rd
It's time for summer! Girls, are you ready for some fun? Bring your doll to camp at Aldridge Gardens. (May also include My Life or Our Generation Dolls.) You and your doll will explore the Gardens, make all kinds of accessories and crafts for you and your dolls, and even have a tea party! Join us as we make new friends and great memories!
Instructor: Shannon Kline